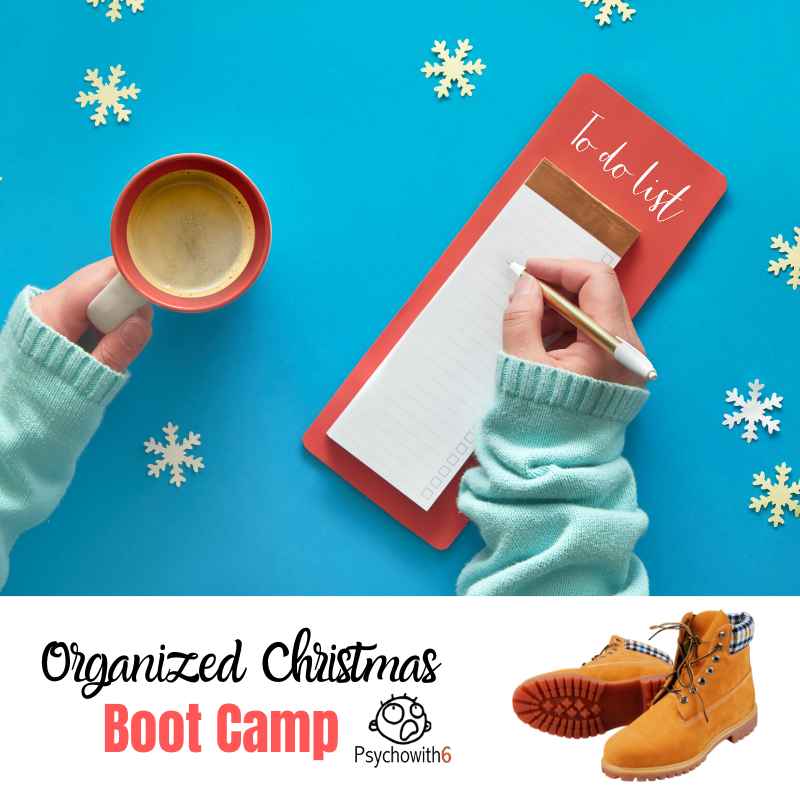 Hey, homeschoolers!
Last week I asked homeschoolers on Facebook how organized they felt they were on a scale of 1 to 10. Some moms told me that they were feeling good about their Christmas preparation. But other moms told me that they weren't organized at all. In fact, a few felt completely overwhelmed and relatively hopeless about their ability to create a peaceful Christmas celebration.
That response spurred me into action for two reasons. First I have a heart for homeschooling moms who struggle with organization because I've been there. One of the callings on my life is to help homeschooling moms get organized enough to do all the things God has called them to do. I wanted to help out of that passion.
But the second reason I was spurred into action is because I am feeling a bit overwhelmed myself. As I drew upon the strategies I know from experience will help me overcome the overwhelm, I knew I wanted to share the process.
So this episode is all about getting organized for Christmas. I'm calling it an organized Christmas boot camp because I expect you to take action and not just hear what I'm saying. I know you know where I'm coming from on that. I've been as guilty as anyone of just listening to podcasts without actually doing anything differently. I've created a boot camp workbook for you. You can download it by clicking the button below.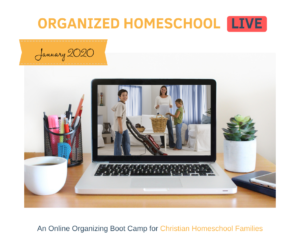 Organized Homeschool LIVE
First, I want to tell you about a boot camp coming this January. It's for homeschooling moms who crave peace and order in their homes. Imagine completing challenges that set you up for success this year and getting them done in just one day! It's called Organized Homeschool LIVE and it's unlike any other organizing resource out there. Rather than a book or course that you may or may not get to, Organized Homeschool LIVE is a scheduled online workshop. We'll get our homes and lives organized together on January 3rd. And unlike most resources, this boot camp isn't just for you. I don't expect you to find time away from your kids to do the challenges. You'll be doing them together! To learn more, go to psychowith6.com/organized-homeschool-live. Purchase your ticket now at a substantial savings! You'll receive the Organized Homeschool Life ebook and digital planner AND you'll get private group coaching with me. We'll tackle the issues that steal your homeschool sanity before the boot camp starts. I hope to see you there.
Sponsor
Now I'd like to thank our sponsor for this episode, the Overcomer movie. I loved this movie and so did my family. It's now available on DVD. Listen to this.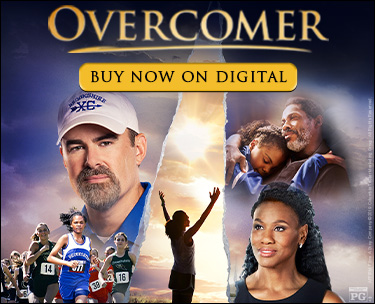 Organized Homeschool Boot Camp
It's time now to get our work boots on and get this Christmas organized. Are you with me? Great! This is a four-day boot camp. So you have my permission to listen to one challenge at a time and take action.
Challenge #1
The first challenge is the trusting God challenge. Yes, every month I do an episode as part of the Trust Project. In fact, if you haven't listened to the episode I did last week on trusting God for our success, I won't mind if you pause this podcast to listen to it. I've already heard from a number of you that that podcast really spoke to you.
We are going to apply the same Trust project principles that we've been using for other areas to getting organized for Christmas.
The first letter of trust is T and T is for truth. What is the truth about what is God's truth about getting organized for Christmas?
The story about Mary and Martha is perfect for our purposes. I'm reading from Luke 10:38-42.
38 As Jesus and his disciples were on their way, he came to a village where a woman named Martha opened her home to him. 39 She had a sister called Mary, who sat at the Lord's feet listening to what he said. 40 But Martha was distracted by all the preparations that had to be made. She came to him and asked, "Lord, don't you care that my sister has left me to do the work by myself? Tell her to help me!"
41 "Martha, Martha," the Lord answered, "you are worried and upset about many things, 42 but few things are needed—or indeed only one.[a] Mary has chosen what is better, and it will not be taken away from her."
Notice that Martha was distracted by all the preparations that had to be made. Does that sound like you? I know it sounds like me! Notice, too, that Martha feels put upon that she has to do it all. I know I've felt that way! As I see my husband and kids enjoying themselves, I feel resentment. I want the Lord to put them to work!
Some interpret this passage as Jesus saying we are to spend our days in prayer and in the Word because this is the most important thing. But I see it differently. Jesus corrects Martha for being worried and upset about many things. We know that Jesus doesn't expect us to sit and pray all day, although some time for this is powerful! Instead, I think He was telling us that we can only focus on one thing at a time. What should that one thing be? That's our action step for challenge one, which we will get to in a moment.
For now, T is for Truth. Spend extra time in God's Word today and I know you'll experience peace and clarity.
The R in TRUST is for Remember. How many times have you lain in bed like I have, worrying about getting all the things done. I did that just last night and realized that I have done this countless times. Yet I cannot recall even one instance in which not getting things done created a crisis. God has been faithful.
The U in TRUST is for understanding. God has already given you and me wisdom for getting organized for Christmas. We just have to trust and obey it. It may be that we need to drop the perfectionism, cancel some activities, engage our family members in helping out, or simplify activities, but we know what to do.
The S in TRUST is for supplication. We need to pray for help. I recall a time when I was a young mom and just learning to connect with the Lord through prayer and Bible reading. I was facing an extraordinarily overcommitted day. I was honestly in panic mode, wondering how I was going to get it all done. But I felt called to pray. I did and to my wonderment, my commitments began being canceled one by one. I honestly couldn't believe it. What means the most to me and is the reason I remember this circumstance so well, is the fact that I was responsible for the overcommitted stress I was in. No one had forced me to agree to all of the activities that I had agreed to. Even though that was true, God in His mercy made it possible for me to have a day that was easily managed.
Pray today for God to help you with the mess you're in and I know He will.
The T in TRUST is for Thanksgiving. I recently received a newsletter from Terri Maxwell about Christmas overwhelm. She encouraged us to give thanks when we have too much to do. What a good reminder! What a blessing that we can freely celebrate Christmas, that we have a family to celebrate with, and even that we get to have another Christmas. Spend time giving thanks to the Lord for the blessings attached to the overwhelm and watch the overwhelm disappear.
Now it's time for the action step for the first challenge. What one thing would God have you do right now? I'm going to read you a favorite poem on this topic. You can find a link to it in the show notes. You may consider printing it so you can reflect on it as you work.
Now stop listening to the podcast and do the next thing. I'll be waiting with the second challenge when you get back.
Challenge #2
Welcome to Challenge #2. The idea behind this challenge is focusing on a few things that are really important to you this holiday. We simply can't have it all. Make a list of the three parts of the season that mean the most to you. I have space for you to record this in your workbook. If you could only have three wishes for Christmas, what would they be? For me, they are attending church as a family on Christmas Eve, opening meaningful gifts with my family that night, and enjoying a big family party on Christmas Day.
For each of these, what are the most important aspects of these to you? Which parts of these three wishes matter most? Write them down. Then write any to-do's you have associated with these on the separate Christmas to-do list I've included in your workbook.
Let's take attending church as my example. I used to dress my kids and my husband and myself in matching outfits. Finding the pieces in the right sizes was a challenge! I don't do that anymore. My adult boys would likely have a fit! What my kids wear to church isn't a focus. Now what's most important to me about our church attendance is that I'm relaxed, focused on worship, knowing that dinner is ready for us when we get home. That affects my meal planning and the service we plan to attend. It also helps me to know that I want to leave in plenty of time, so we aren't struggling to find seats together. Thinking through this prompts me to realize that I need to have our dinner in the crockpot (I'm making potato cream cheese soup again this year), and I need to let my sister-in-law know what time we are leaving for church as she will be attending with us.
Next, I will think about meaningful gifts. It's tempting for me to take a shortcut on gifts and just give my older boys cash. But exchanging heartfelt gifts is really important to me. So I won't skimp there. Instead, I need to research and shop for gifts I know they'll love. That will go on my to-do list.
I want you to go through the three most important aspects of the holiday, writing down the key parts of each for you. Then write down any tasks associated with these on your to-do list. Begin working on one of those tasks. Pause the podcast and do that now.
Challenge #3
Welcome to Challenge #3. The idea behind this challenge is to add the other things you need to do to your list. You've already made a list of critical tasks. Use a highlighter in the color of your choice to mark those tasks. The highlighting will tell us that these are top priority.
Next, I want you to go on a task scavenger hunt. The first place I want you to look is your calendar. Look at each thing you have coming up before and around the holidays. What tasks do you have to do associated with them? Add those to your to-do list. For example, I have an ugly Christmas sweater party this week. I am bringing a dip. I need to not only make the dip but add the groceries needed to my grocery list.
The second place I want you to look is your snail mail. Do you have invitations to respond to? Write them down. Do you have bills coming due? Write them down.
The third place I want you to look is your purse. Look for receipts for things you need to return, notes, and invitations. Write down associated tasks on your list.
The fourth place I want you to look is your email. Skim your email to look for actions you have to take before the holidays. Write these down.
The final place I want you to look is your phone. Check your voicemail, texts, and social media messages. Look for Facebook event invitations as well. Write down any associated tasks.
If you think of other tasks as you go, add them to the list.
We are going to whittle this list down in the next challenge. But for now, work on another highlighted task. Pause the podcast and do that now.
Challenge #4
Welcome to Challenge #4. The idea behind this challenge is task triage. Like emergency room personnel, we can't attend to all the issues at once. You know that you need to focus on your highlighted tasks, but what about the other tasks on the list?
We're going to star the tasks that must be done today. The Bible says that each day has enough trouble of its own. We aren't going to worry about what has to be done next week. We're going to focus on today. If there is a task that you would stay up late into the night completing because the benefits of getting it done today are big or the costs of not doing it today are great, then star it. You should have a small number of tasks that absolutely, positively have to be done today.
Add these tasks to do today using the sample daily page from the Organized Homeschool Life planner that's in your workbook. You'll be reminded to not just work but to spend time with God and a loved one, and you'll be prompted to plan a reward for all your hard work!
When you've completed the left side of the page, you'll create a loose schedule for your day on the right–morning, afternoon, and evening. This plan will give you the opportunity to plan how you might spend time with a family member while completing one of your tasks. As you work within time limits, you may see tasks that can be dropped, delegated, or simplified.
Continue to work this way until you are ready for Christmas and beyond! If you enjoyed this Christmas boot camp, I think you'll love Organized Homeschool LIVE this January. Go to
http://psychowith6.com/organized-homeschool-live to learn more. But don't wait! Launch pricing ends after December 12th.
Thanks again to our sponsor, the Overcomer movie. Be sure to check it out on DVD. Join me next week when we discuss the most important areas of your homeschool life to organize for the new year.
Have a happy homeschool week!