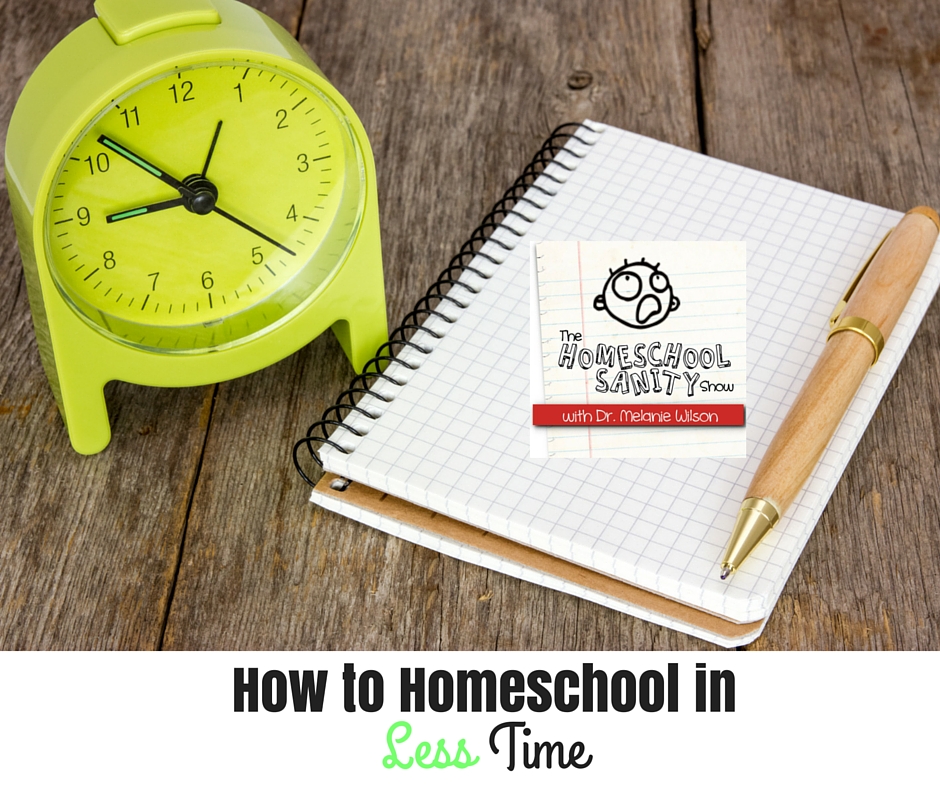 Hey homeschoolers! One reason you may be stressed in your homeschool is because of how much time it takes. If you feel like you would be a happier homeschooler if you could finish schooling in less time, this is the episode for you.
First, I'd like to ask you a favor. If I can show you how to save time homeschooling, would you share two minutes of that time savings posting a review of this podcast on iTunes? Reviews encourage people to give a podcast a try. I'd be so appreciative if you would let people know that The Homeschool Sanity Show is worth their time. Thank you in advance.
Teaching Tip of the Week
This weeks' teaching tip is the list of 100+ places you can find planner printables for 2016 at CornerstoneConfessions.com. Kathy Gossen not only provides us with a 140-page set of free planner pages she's designed herself, but a new 180-page premium, color set. She also lists dozens of other planning pages like my 1-Thing To Do List that you'll want to include in your 2016 planner. Creating a custom planner is  a great way of making the best use of your time in the new year. Be sure to check it out at CornerstoneConfessions.com.
Organized Homeschool Challenge of the Week
This week's challenge is the the Daily Routine Challenge.
How to Homeschool in Less Time
I don't want to waste your time, so let's get right to today's topic. How can you save homeschooling time?
There are all kinds of little time-saving tips I could share, but I'd rather give you the big time savers.
The biggest time saver of all is to allot less of your day to teaching. Up until a couple of years ago, I thought I had to spend the same number of hours a day teaching as teachers in traditional schools. That may be surprising to you, but I was really thrown off by the schedules of a lot of homeschoolers I'd seen. Their schedules seemed to closely mirror traditional schedules, even in terms of devoting a full hour to many subjects. With six kids, I felt I needed to be actively teaching until at least 3:00 p.m. That didn't leave much time for all the other tasks I had as a mother, homemaker, and writer. I was sure that if I just worked harder (like I imagined other homeschoolers were doing), I could make everything fit.
Then I found some homeschool schedules of committed bloggers and was enlightened. These mothers weren't teaching all day long. Why was I? I decided to limit my actual teaching time to no more than two hours in the morning, with co-op days the exception. The results? I was happier, felt better about myself as a teacher, and had more balance in my life. If you're intrigued by the idea of spending less time teaching, you may be wondering how to make it work. That's what I'd like to share next.
First, teach as many subjects as possible to all your children. I used Konos with all my kids for years. It's a hands-on unit study curriculum for K-8. More recently, I've taught Bible, history, language arts, and younger kids' science to multiple kids. It works. Younger kids absorb more than you think. I typically choose curriculum directed to a fifth grade level and it's appropriate for all my elementary to junior high kids. Mystery of History, Answers for Kids,  and Shurley Grammar (for which I used the 7th grade book) are examples of curriculum I've used across grade levels. Some of your curricula will give you suggestions on how to modify it for younger or older learners, but if yours doesn't, just do what makes sense. Have younger students dictate papers to you. Skip activities that don't work. Add extra reading or papers for older students. You'll be surprised at how well it works.
Second, don't teach every subject every year. This is huge. We get the idea that we have to teach foreign language, geography, history, logic, art, music appreciation, computer skills, home ec and more all year every year and we just don't. Math and language arts and for us as Christian homeschoolers, Bible and character, are musts. Everything else can be rotated in as we have time. Of course, if you or your child are passionate about a subject, devote more time to it. But remember that we want to expose our children to lots of different subjects when they're young. Mastery happens later. It was a huge relief when I realized I could let go of subjects for a time as well as a big time savings.
Third, spend less time per subject. There is great wisdom in a Charlotte Mason approach of spending a little bit of time on a subject and then moving on. Why? Because attention spans are short. The younger your children, the shorter they are. Even adults retain more information when the learning sessions are short. Short sessions have the added benefit of keeping motivation high. If you read just one chapter of a read aloud, the kids will be eager to hear more tomorrow (or today if you cave like I often do). I explained this approach in my post How to Homeschool in an Hour a Day, but I'd like to elaborate a bit. Pare your lessons down to the bare bones. If you're teaching from Shurley Grammar, for example, explain the tenses. Do the guided practice together. If you're not sure they have it, have them complete more exercises in their student workbook on their own. Skip the rest of the material or save it for another day. I am using other curricula to teach writing, but as I review their papers with them, I can ask them about tenses. In the process, I don't drill and kill my kids' interest in English and I save myself time.
Fourth, choose curriculum that your children can use independently. This is something people who don't homeschool don't understand. I didn't drill phonics with my youngest. I had him use a phonics computer program for that. I don't teach math now that my kids are older. I give them Life of Fred Math books and answer their questions and check their work. I don't teach High School Health, either. My boys complete this Alpha Omega course on their own. Independent coursework could be in book, audiobook, or computer form or could even be a course you create with your older student. My only caution on this is that beginning readers and students who struggle with a subject need your help. That's time that you want to be investing. It pays off.
Now I'd like to get my Periscope viewers' advice for how to homeschool in less time.
Periscope Viewers
Candace homeschools her youngest son first because he needs more time. Then she teaches her older two together. This is great advice for those of you who have younger learners.
Markie reviews the night before what she will be teaching the next day. This is also great advice and something I want to make a habit this year. You can find Markie at lifewithmrscooks.blogspot.com  @cmw28 adds, "When I was a classroom teacher I was taught that 10 min of planning gave you an hour later."
Sarita suggests that having her husband help during the evenings and weekends saves her time. I would add that being specific about what you need help with is important.
Tara at Minivanministries.com suggests audio books and doing as many subjects together as possible. I love audiobooks and I'm with Tara. I teach Bible, history, and language arts to more than one child at a time. My Father's World and Mystery of History on CD were other suggestions.
One of my Periscope viewers asked about recording hours if we are homeschooling in less time.
Christina reminded us that everything counts! If you need hours, you can count every educational thing that your child does toward school hours. If your child breezes through a lesson that would normally take a classroom hour, you can also count it as a school hour.
Thanks to my Periscope viewers for those tips!
Action Steps
This weeks' action steps are to consider ways of homeschooling in less time. Don't plan to homeschool all day or that is exactly what you'll be doing. Teach subjects to all your children or teach pairs as often as you can. Spend less time teaching. Get away from the idea that every subject should take an hour. Check out my post How to Homeschool in an Hour a Day for more. Finally, choose curriculum that your children can use independently, especially as their reading skills develop.
Speaking of time, I really appreciate that you took some of yours to listen in. I love listening to podcasts when I walk, drive, or even when I'm showering with a waterproof, Bluetooth speaker. Those ideas might make it easier for you to listen to all your favorite podcasts.
Have a happy homeschool week!