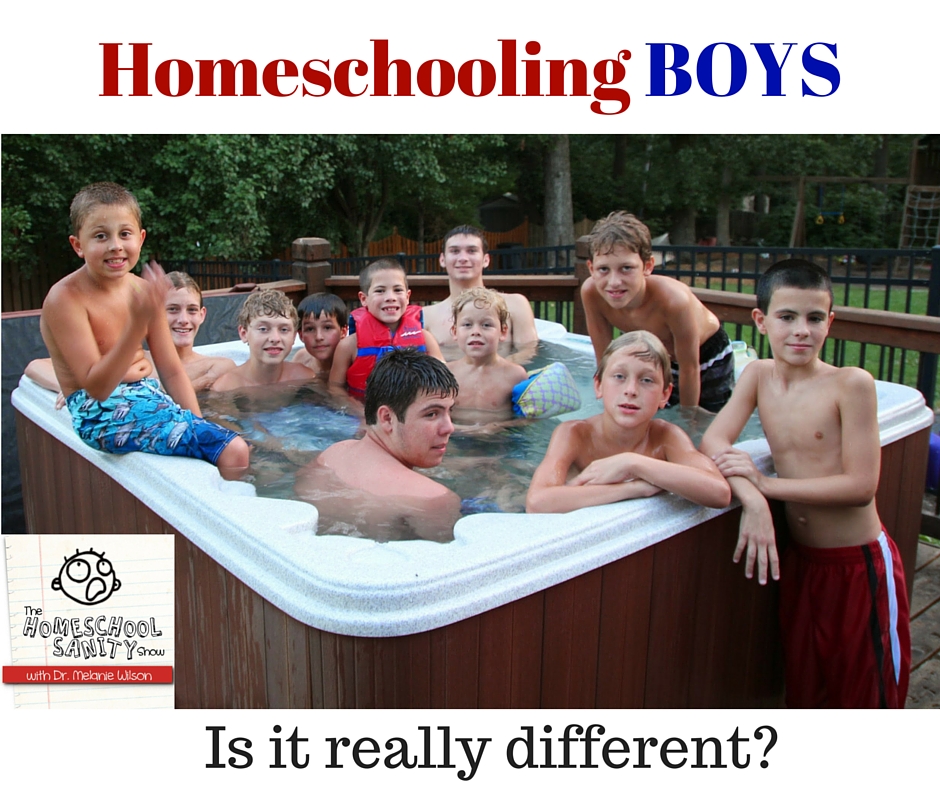 I homeschooled boys and only boys until my fifth child was a girl. I asked my Periscope viewers if homeschooling boys was really different. We had an interesting discussion that you can watch at the end of this post. I decided to determine what differences have actually been demonstrated in research. I can't wait to share with you what I found and how we can make positive changes in our homeschools.
But first, I would like to invite you to subscribe to Psychowith6.com. I offer numerous valuable resources to subscribers only, including a meal planning ebook, writing prompt printables, and a list of the best science curriculum along with pros, cons, and reviews. You'll also receive the show notes for The Homeschool Sanity Show.
Teaching Tip of the Week
This week's teaching tip is RaisingRealMen.com with Hal & Melanie Young. Hal and Melanie are fellow podcasters on the Ultimate Homeschool Radio Network with their show Making Biblical Family Life Practical. Their book Raising Real Men will bless you if you are parenting boys. They also offer parenting seminars and amazing blog posts you won't want to miss.
Organized Homeschool Challenge of the Week
is the Spring Activities Challenge.
How is Homeschooling Boys Different?
Before we discuss potential gender differences, I want to point out that being male is just one factor that can affect your child's behavior and learning. The differences I mention may not apply to your child and may be small in comparison to personality characteristics. Personality is a topic I plan to discuss in depth in a future episode of this podcast.
When my second son started trying to wrestle his older brother at just 12 months of age, I knew I was seeing a gender difference. I was amazed. But I was also amazed when my daughter got into more physical altercations with her friend than my sons did with theirs. So what are the differences really?
Boys are better with ball-handling skills and poorer at fine motor skills at young ages. (Reference)
Your son may take to many sports much quicker than your daughter, but will likely struggle to button buttons and hand write in comparison to your daughter. I didn't notice a big difference in sports ability between my daughter and sons, but I noticed the fine motor difference very early on. My sons required help getting dressed and tying shoes for years while my daughter was dressing herself (and undressing herself) when she was just a year old. She was very adept at removing diapers to the point we had to duct tape them on. She also didn't seem to have any problems with handwriting and seemed to enjoy writing in workbooks, while my boys struggled and complained.
How does this difference affect our homeschooling?
My recommendation to homeschoolers is to significantly minimize written work for boys at early ages. Keep handwriting practice light and fun and allow them to type and dictate their answers rather than write them out. I believe this is a huge advantage for homeschooled boys. Boys who attend public school are pushed to write, write, write. While the practice probably improves handwriting, it can lead to resistance to learning. My now college student's handwriting still isn't great, but it's passable. So my approach didn't destroy my child's future.
Boys are more active at an early age. (Reference)
TeacherHub reports that:
80% of all classroom discipline problems in America are boys
80% of students who are behaviorally disordered are boys
80% of students on medication for ADHD are boys
Most boys would prefer to be moving around rather than sitting at a desk, and may in fact learn better if they aren't constrained. As a psychologist, I was critical of the number of boys diagnosed with ADHD when their behavior may be age- and gender-appropriate. Most classroom settings require boys to sit still and quietly pay attention. Interestingly, even boys' artwork is more likely to depict action than girls'. So…
How does this difference affect our homeschooling?
Allow boys to move and fidget. Even public school classrooms are adopting standing desks for kids. This is a great option for homeschoolers as well. Let your son play with a stress ball while he listens to a read-aloud. Limit seatwork. Boys often want you to get to the point because they want to get school done so they can move again. Even better, build your lessons around physical activity. My boys loved to dramatize what we were learning and to study active subjects like the Olympics or safety. The truth is I did much better with this in my early homeschooling years than I do now. So I am wanting to put this information into practice, too. I'm just going to warn you that the negative to this gender difference is potential structural damage to your house. My husband has had to repair our basement drywall countless times from the boys' or their friends' physical activity.
Boys don't do as well with reading and writing as girls.
The reason for this is likely that 70% of students with learning disabilities are boys and because of how these skills are taught in the classroom. Traditionally, learning these subjects requires long periods of sitting and handwriting, which we already know doesn't work for most boys.
Just 19% of elementary and middle school teachers are men. Teachers' opinions on good books do not match students'. Boys prefer to read comics and humorous books and students of both genders prefer contemporary books and series. Teachers are more likely to choose classics and award-winning books that won't compel boys to read. In fact, boys are more resistant to learning if the subject doesn't interest them than girls. Girls are more apt to want to please teachers in general.
Boys, in particular, do not like to read out loud in a classroom setting. Most likely this is due to the desire to maintain status with other boys. Boys in all-boy Florida classrooms where teachers have been taught how best to teach boys have improved test scores dramatically. Boys in co-ed classrooms scored 37% proficient on the FCAT while boys in single-sex classrooms scored 86% proficient.
How does this difference affect our homeschooling?
Read books aloud to your boys. If your son struggles with reading, use lots and lots of audio books. To encourage reading enjoyment, choose books that your son enjoys. Every single one of my sons was crazy about Calvin & Hobbes and became avid readers as a result. If you'd rather have your son read Johnny Tremain instead of Captain Underpants, recognize that Captain Underpants may be a gateway book. I wrote a comprehensive post at Psychowith6 on how to find books your child will like that I will link to in the show notes. Having been married to a library book salesman for twenty three years, I've learned some valuable insights on finding great books for kids. I hope you'll take advantage of them.
Make sure you allow boys to choose books when studying literature as well. I allowed each student in my boy-dominated co-op literature class to choose one classic (from a list) and one book of their choice. The result was that I found a book series I loved (Alex Rider) and one I didn't (Ranger's Apprentice). The boys in my group absolutely loved Ranger's Apprentice, however. I would have missed captivating them if I had chosen the books. Remember that reading skills are the foundation for every other subject, so focus on them by finding out what your son loves.
If your son struggles with reading, help him learn math apart from word problems first. Girls tend to excel with word problems and boys struggle. Boys can do well when problems are strictly numeric.
As for writing, allow boys to use humor in writing. Great writing prompts work wonders and I've found an exception to the read-aloud resistance in boys. If you allow boys to read their funny compositions out loud to their friends, they will vie for the chance to do it. I have free funny writing prompts for fall and winter at Psychowith6. I recommend the book Unjournaling for more great writing prompts for boys.
More Ideas for Homeschooling Boys
Boys in classroom settings tend to think they are better students than they really are. They aren't as critical of their academic performance as girls. As homeschoolers, we have the opportunity to give them a reality check and give them the push they need to improve.
A world-wide study of 2500 teachers' suggestions for boys quoted in The Atlantic suggested we adopt:
" Lessons that result in an end product–a booklet, a catapult, a poem, or a comic strip, for example." You can help boys answer the question, "What's the point?"
"Lessons that are structured as competitive games." Check out my list of free grammar games.
"Lessons requiring boys to assume responsibility for the learning of others." Let your older son teach the youngers or have every one of your boys teach a skill to the others.
"Lessons that require boys to address open questions or unsolved problems." When he was little, my son said, "I'm afraid everything has already been explored." Show your son that this isn't true.
"Lessons that require a combination of competition and teamwork." One of the boys' favorite activities was when we had two political parties competing for election to co-op leadership. One party was promising soda and candy as snacks. Do you think they kept their campaign promise?
"Lessons that focus on independent, personal discovery and realization." Create an independent study for your son on a topic of interest that results in a finished product like a presentation.
"Lessons that introduce drama in the form of novelty or surprise." There are many science experiments that fit this bill. I love the book Science & the Bible for this purpose.
My research of this topic is definitely going to change the way I homeschool my boys. How about you?
Check out Homeschool Your Boys for more!
Next Time on the Homeschool Sanity Show
I will back on April 19th with an episode titled Why Homeschool that you can use to share with friends who are considering homeschooling. It will also remind you why you do what you do. I will be busy preparing for the St. Louis Homeschool Expo April 7-9th. I would love to meet you there. Next time I can finally tell you all about Grammar Galaxy, the language arts curriculum I've developed for beginning readers.
This episode is brought to you by The Organized Homeschool Life. Don't just organize your homeschool. Organize your entire homeschool life! Pick up your copy today!