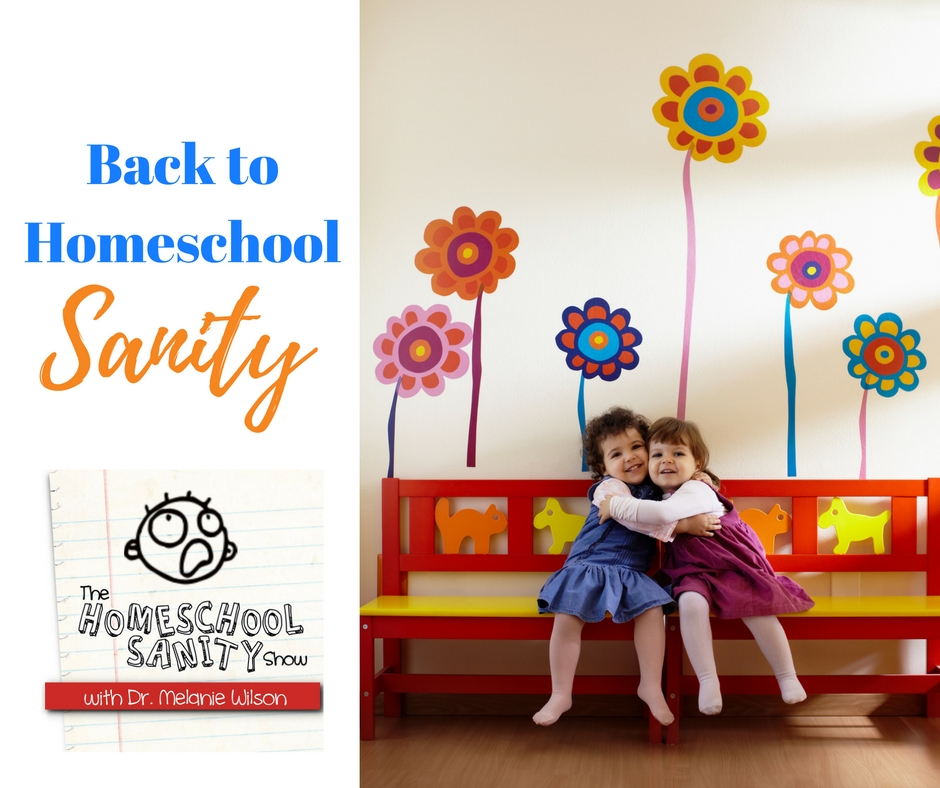 Hey, homeschoolers!
I'm starting to get really anxious about starting school again. I've felt this way every year. Summers always seem to go so quickly, don't they?
If you're a new homeschooler, you may be understandably anxious. You want your first year to go well. After all, you have a lot riding on it! You may have had to convince family members that homeschooling is the right choice. You may have quit working or cut back to part-time. You may have invested in lots of curriculum. You may have signed up for homeschool classes and groups. Now it gets real!
If you're a veteran homeschooler, you may be dreaming of an even smoother, more peaceful year than what you've had before. You may have a lot riding on it, too. You may be wondering if you can keep doing this. You may feel like you haven't been the teacher and mom God has called you to be. It's about to get real again!
I'm looking forward to sharing ideas for back-to-homeschool sanity in just a minute.
But first, I think you'd love The Organized Homeschool Life. It gives you weekly challenges made up of 15-minute missions that will have you ready for back to school in no time. You can find it at organizedhs.com. Because this is my birthday week, I'll give you 20% off the book with the code BIRTHDAY through August 7th.
Teaching Tip of the Week
This week's teaching tip comes from my 8th grader. Long-time listeners of this podcast know my kids and I are fans of Life of Fred math. I interviewed the author, Stanley Schmidt, for this podcast. My son was using Life of Fred Algebra and kept saying he didn't know the answers to the problems. I would encourage him to go back through the chapter, but he said that it just wasn't explained clearly. Now, don't hear that as a criticism of Life of Fred Algebra. Two of my sons used it successfully.
I realized that I had purchased a copy of Learn Math Fast's Algebra years ago. I got it out for him and he's been working on it this summer. He recently told me that he likes it 400% better than what he was using. "I can actually understand it!" he said. I've also interviewed the author of Learn Math Fast, J. K. Mergens, for this podcast. If you have a student struggling with algebra, my son would highly recommend it. You can purchase any of the excellent math books at learnmathfastbooks.com. If you use code HSSANITY you'll get a $5 discount on one book or HSSANITY7 for a $20 discount on the set. But I am also giving away a Learn Math Fast book of your choice. See below.
How to Have Saner Back-to-Homeschool
Before I tell you how I think we can have a saner back to to homeschooling time, let me describe a less positive scenario.
You have everything ready. The planner is full of every book, lesson, and activity you'll do. The shelves or the workboxes have everything the kids need, beautifully organized. You've purchased all the supplies you need, on sale, too. Your school space is even decorated. And you're so excited.
But then you get the kids up. That's when the whining starts. Why can't we start school next week? they want to know. When they come down for breakfast, instead of praising you for the homemade feast, they start fighting. You have to threaten punishment, but you don't want to start school by following through. You somehow get through breakfast and then start your new chore system. The kids declare it unfair and it takes much longer to clean up than you planned on your beautifully laid out schedule. You rush the children to your school space where you plan to pray and study the Bible. You want to start off the day right. Only now the kids are fighting over who gets to sit where.
The day is filled with complaints, confusion, and crying. And the kids misbehaved too. This isn't what you thought it would be.
Let's try to prevent this kind of back-to-school fiasco, shall we?
First, know that it won't go as planned. I remember people telling me that when I was getting married. I secretly thought, "Oh, but mine will." It didn't. Even if by some miracle your first week back to homeschooling goes well, sometime the plans will unravel.
When we don't anticipate that starting school won't go perfectly, we get mad. We get discouraged. So do the kids, who react to you and your attitude more than anything else. I feel like I need to say that again. Your children will respond to your attitude more than to anything you've planned. If you are joyful and easy going, it's much more likely that your kids will be.
For some reason we homeschool moms tend to believe that everyone else's back to homeschool is smooth sailing. We are the only ones who have ungrateful children who aren't rising up and calling us blessed that first day of school. We're not. And if you know a homeschooler who lords their perfect back-to-homeschool routine over you, find a new homeschool friend.
Homeschooling is like herding cats. It's only by the grace of God that we succeed at all. What God wants to do in you and your children probably doesn't entail a perfect back-to-homeschool week. The very first week I homeschooled I discovered how impatient I was. I learned that by my son being resistant to my approach which was essentially, you-will-do-this-now-with-a-smile-or-else. When I met another of my dear homeschooling friends she told me that her son wasn't following her plan. I laughed. She thought her homeschool was doomed, but I convinced her that this was entirely normal.
You can have a saner back-to-homeschool experience, when you really believe that it won't go as planned. If you believe that, I'll continue. Okay.
Second, build simple routines before you start back to school. Many of us treat back to homeschool like New Year's Day. We're going to get up early, do our devotion time, exercise, read, journal, spend time with our husbands–all before the kids get up. Never mind that we haven't routinely done any of those things.
Start building routines with one important step. If you want to get up early, the most important thing you can do is go to bed at a reasonable hour. How can you make that a habit? That's where you start. And you don't do that for the first time when you're starting school.
As you add to your routines, you have to remember my first point. They won't go as planned. Wahoo! You're up early for the second day in a row. Now you're going to work out. Only the baby decides to get up early too. Or the car won't start so you have to drive your husband to work. That doesn't mean we give up on routines. We forge ahead, continuing to add one positive habit at a time, knowing that despite the distractions, your homeschool will function better with them.
Don't save chore training for the first week of school unless you want your kids to hate you. I'm only half joking. No child in his right mind wants to start getting up early, doing chores, and doing lots of schoolwork on the same day. Break them in. Gradually get them up earlier and have them do one new chore at a time, if that's something you plan to start.
If you want to simplify your school year, start meal planning now. My free ebook The Once-and-for-All Meal Plan can help. Don't try to start school and start making healthy new recipes at the same time if you want to maintain your sanity.
Using the same principle, you may not want to start all of your subjects on the first day of school. You could start earlier and add one subject at a time until you're fully up to speed. Because we start our regular schooling before our co-op starts, we have time to break in easily and even get ahead.
Don't think your back to homeschool will go as planned and build simple routines before you start back to school.
Finally, make back-to-school special. I loved going back to school. I had new clothes and new school supplies. And there was always something special at the beginning of the year. There are so many ideas for how to make starting your homeschool special, but these are a few to consider:
Surprise the kids. I do this every year. The kids have no idea what we will do that first day. One year I told them we were going to a local amusement park. I've taken them out for breakfast and for ice cream. You could plan a day of playing games, going to the zoo, checking out lots of parks, or you could send them on a scavenger hunt for new school supplies.
Take pictures. I wish I had taken more first-day-of-homeschool pictures. I love having the kids hold a sign with their grade in school. These are wonderful memories to treasure. But don't limit your photos to portraits. Take pictures of the kids reading, doing math, doing nature study and more. Shoot some video, too.
Create traditions. We have gone to our back-to-homeschool picnic every year and the kids love it. I know they have fun seeing friends, eating the sweets people bring, and playing games. But in a real sense, they also love it just because we do it every year. One of my friends leaves her kids greeting cards on the first day of school. I love it! Maybe you always have pancakes with faces or homemade cinnamon rolls for breakfast. As long as you don't plan on your kids gushing about how amazing you are for making them, you're golden.
For even more ideas on how to have a saner back to homeschool, check out The Back to School Survival Manual by Alicia Michelle.
Today' Action Steps
Use code birthday to get 20% off The Organized Homeschool Life at organizedhs.com. Enter to win a Learn Math Fast book below or use code HSSANITY / HSSANITY7 at learnmathfastbooks.com.  Have a saner back to homeschool by believing that it won't go as planned, by establishing simple routines now, and making your back-to-school experience special. It won't be perfect, but it can be blessed.
This episode of The Homeschool Sanity Show is brought to you by Grammar Galaxy— the elementary language arts curriculum that will save your sanity by making teaching fast, easy, and fun.
Have a happy homeschool week!