Do you keep running out of space on your bookshelves? Do you accidentally buy curriculum that you already own or do you frequently buy or download curriculum that you never use?
If you answered yes to any of those questions, you'll want to listen to this episode of The Homeschool Sanity Show. If that's not you but you know someone who could benefit, please tell them to listen in. LISTEN HERE or on ITUNES.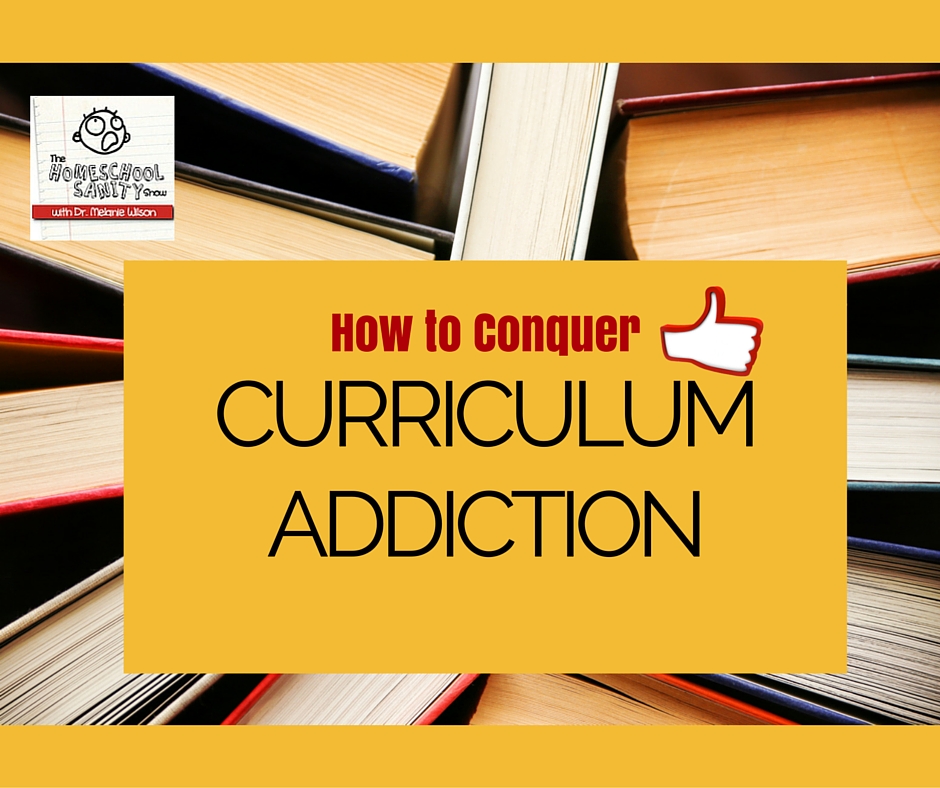 But before we discuss how to conquer curriculum addiction, I'd like to invite you to follow me on Instagram. It's a great way for us to get to know each other better. You can find me with the handle Psychowith6. If it's clear that you homeschool, I'll be glad to follow you back.
Teaching Tip of the Week
The teaching tip of the week is The Dove Channel. The Dove Channel offers family-friendly and faith-based movies for entertainment and many that would make a great adjunct to homeschooling. There are many documentaries about Christian heroes, theology, and even some science topics. What I love are the family-friendly ratings that tell you exactly what to expect in the films. There are no commercials, nasty comments, or extra videos that play automatically like you'll find on YouTube. When you want to add video to your studies or just occupy kids for a short time with safe, uplifting content, the Dove Channel is worth checking out. Their videos can be watched online or on mobile devices. Start your free trial today or get access to all their videos and clean comedy, too, for just $4.99 for one month or $11.99 for three months. I love the Dove Channel so much that I became an affiliate. Go to HomeschoolSanity.com/addiction to access the show notes with the link so you can view family-friendly and educational videos on The Dove Channel today.
The Organized Homeschool Challenge of the Week
The Organized Clothing Challenge
How to Conquer Curriculum Addiction
I'm not trying to help you determine if you have a clinical shopping addiction, but I do want to point out some of the characteristics of shopping addicts that apply to over-buying of curriculum.
First, compulsive shoppers are often on a quest for the perfect item.
Are you searching for the perfect curriculum? The one that  you and your kids will love to do all year long? The one that takes very little time, yet will have your child way above grade level? The one that leaves nothing out, but creatively and thoroughly teaches every subject. Hm. Let me know if you find that because I want to buy it too!
My point, of course, is that there is no such thing as perfect curriculum, just as there are no perfect home educators or homeschooled students. When we experience burnout, which may be seasonal or related to fatigue, we may assume that a different curriculum will solve our problem. We may get a little thrill when we first buy something new, but the thrill fades quickly and we are left having to buy more bookshelves.
Sometimes we are looking for the perfect curriculum because of anxiety. We are afraid we are missing out on something great or that we aren't providing our child with the best education. If you know anxiety is part of your problem, I encourage you to listen to the episode Help for Anxious Homeschoolers. In my opinion, homeschoolers who constantly change curriculum or who try to use four different curricula to teach a child one subject are doing the most disservice to their child. Even an imperfect curriculum used consistently can provide your child with an excellent education with you as his teacher. Research also shows that the amount of money homeschoolers spend on their child's education is not correlated with academic success.
The solution to perfectionism-based curriculum addiction is to trust God to provide the education that your child needs, even using an imperfect curriculum, and to manage any anxiety that is a contributor.
Second, shopping addicts often buy what they don't need because it's on sale.
Bargain shoppers often pick up curriculum at a discount because saving money can be like a game. I found this to be the case when I was a coupon shopper. I once came home with many gravy packets because they were just 15 cents with coupons. I was thrilled! Never mind that I make gravy just once a year. I ended up throwing them out.
Bargain shopping for curriculum we don't need can be for the thrill, but can also once again be a symptom of anxiety. We may be afraid that we'll need particular books or materials someday and will have to pay full price. We don't estimate the cost of purchasing curriculum we don't actually use, however. Even free items clutter up space on our bookshelves and hard drives and lead to unnecessary stress.
The solution to sale-based curriculum addiction is to look for the best price for items that you need now and to trust God to provide everything you need in the future.
Third, shopping addicts aren't satisfied unless they own every part of a set.
Human beings crave completion; that's normal. What isn't healthy, however, is buying parts of a curriculum collection we don't need.
Curriculum providers sell lots of options and add-ons. They aren't all necessary and some of them you can provide yourself for much less money. For example, do you really need to purchase all the books that go with a curriculum? Will you have time to read them all? Could you pick up most of what you need at the library? Reading reviews is a great way to avoid purchasing items you don't really need.
Some homeschoolers see all curricula as part of a set they just have to have. But if you purchase too many options, you'll feel pressure to use them to avoid feeling guilty. It's true that you can return many of the things you buy, but there is a time limit for returns and possibly shipping or restocking fees you'll owe.
Even downloading freebies that you don't need wastes your time. I'm a curriculum provider and I create freebies. I'd love for you to buy my products and download the free printables I create. But I don't want you to do those things if you don't need them or won't use them. I want you and your children to enjoy homeschool sanity, first and foremost. Having a space that is overflowing with books and manipulatives and an empty bank account won't bring you homeschool sanity.
The solution to completion-based curriculum addiction is to look to Christ for our fulfillment and wisdom in purchasing.
If you see symptoms of curriculum addiction in yourself, I hope you'll pray and ask God to meet all your needs. I also hope you'll consider selling, lending, or donating curriculum you aren't using or aren't likely to use in the future. You'll be a teacher with peace of mind and your children will learn better in a clear space. If you need curriculum, consider borrowing it and not buying it. Put the word out to homeschool groups in your area that you'd like to give something a try. A local friend recently came across my review of America from the Beginning and asked if I still had it. I did! She asked to borrow it, liked it, and purchased it from me used. What a better proposition than my holding onto it in case I want to use it again someday. If you're interested in used curriculum, read my post on the best places to buy, sell, borrow, or donate used materials in the show notes at homeschoolsanity.com/addiction.
Today's Actions Steps
First, prayerfully determine if perfectionism and related anxiety is driving your search for more curriculum. Diligently work on your anxiety and trust God to provide exactly what you need. Second, commit to purchasing or taking in only what you need right now. Finally, look at the best places post to find out how to release unused curriculum or get what you need at the best price. Maybe you won't need another bookshelf after all.
Have a happy homeschool week!